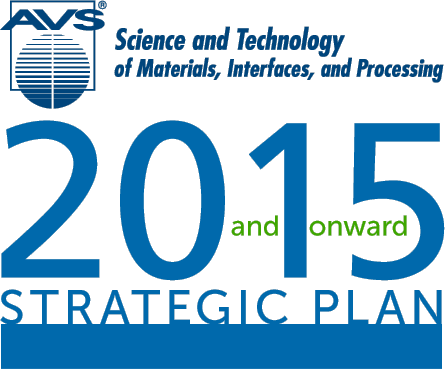 AVS Mission
The American Vacuum Society is an international community of scientists, engineers and instrument manufacturers, which strives to promote research and communicate knowledge in the important areas of surface, interface, vacuum, and thin film science/technology for the advancement of humankind.

AVS Vision
The American Vacuum Society endeavors to be the premier organization specializing in understanding and applying the science and technology of materials, interfaces and processing with outstanding benefits for members.
GOAL 1
Advancing Knowledge and Communication

Provide a frontier learning and communication environment for members through the flagship international symposium and exhibition, prestigious journals, short courses, and a support infrastructure for technical meetings relevant to the society.

Goal 1 Achievements:

• Presentations on Demand (2012+)
• Symposium Mobile App (AVS 60+)
• Impact Factors: JVST A 2.322, JVST B 1.464, Biointerphases 3.374
• New PacSurf Conference (2014)
• Sponsors 20+ Conferences (2015)
• 25 Science teachers attend SEW each year

Distinguish AVS from other scientific societies to deliver unique value and content.
Enhance the quality of the AVS family of journals and build cross-journal collaboration.
Increase international and under-represented group participation in the symposium and topical conferences.
Strengthen ties to local chapters with strong industrial participation, especially in emerging areas.
Emphasize STEM education and need for qualified educators presents opportunities for AVS education workshops (e.g. Science Educator's Workshop).
GOAL 1
Advancing Knowledge and Communication

Increase quantity and quality of the articles in all AVS journals.
Ensure that the AVS International Symposium and Exhibition remains the premiere 'must-attend' venue for professionals involved in the science and technology of materials, interfaces and processing.
Growth of PacSurf to be the premier Pacific Rim materials, interface and processing conference.
Growth and continued success of PacSurf, and division, groups and chapter-led conferences e.g. ICMCTF, QSA, Surface and Interface Analysis.
Build relationships with national and state science teacher associations to increase awareness of science educator's workshop.
GOAL 1
Advancing Knowledge and Communication

Submit a manuscript to an AVS journal and be an active reviewer for AVS journals
Present a paper and/or serve as a moderator at the International Symposium or an endorsed/sponsored topical conference
Serve on a division, group or focus topic program committee
Attend a local AVS chapter meeting. View Chapters List
Recruit a science teacher from your region to attend a Science Educator Workshop.
Enroll in an AVS short course or tutorial and suggest topics if they are not available.
Become a short course instructor or tutorial instructor
Volunteer in AVS: www.avs.org/Form/Volunteer
GOAL 2
Outstanding Benefits to Members

Foster a culture of support, networks, and resources for career advancement. The Society stimulates an active, engaged, and diverse membership involved in both local chapter and international activities.

Goal 2 Achievements:

• New expanded AVS web site
• Industrial Advisory Board (2014)
• Complimentary membership for first and corresponding authors of papers submitted to AVS journals

In some regions, substantial numbers of non-members participate in local Chapter events.
In today's fiscal environment, industrial membership is challenging to maintain or grow.
One opportunity for longer-term impact and membership growth in the Society is to increase the emphasis on organizing student chapters.
Increase International membership through an expansion of overseas Affiliates and Chapters.
GOAL 2
Outstanding Benefits to Members

Establish a stable membership with 4800+ members.
Increase industrial membership to 30% or greater.
GOAL 3
Outstanding Benefits to Members

Utilize local and student chapters to develop new promotional methods for membership recruitment and enhancement.
Strengthen interactions with Society committees that can directly influence membership (Conferences for example).
Leverage existing industrial membership to help penetrate corporate R&D to emphasize how and where the Society can provide benefits to the company and its employees.
Volunteer in AVS: www.avs.org/Form/Volunteer
GOAL 3
An International Society

Promote and welcome international participation. The society provides leadership and cooperation with other likeminded international societies and organizations.

Goal 3 Achievements:

• 3 International Chapters and Affiliates
• New PacSurf Conference (2014)

Relationship-building with other societies and organizations requires sustained effort over long time periods.
PacSurf provides an opportunity to expand international co-operation and leadership.
GOAL 3
An International Society

Continue to engage and serve international members at all levels in the society.
Expand international interactions between AVS and related organizations around the world.
Explore interaction possibilities in regions with nascent technological industry, such as Vietnam, Thailand and Singapore.
Increase number of international AVS Chapters and International Affiliates, such as in Egypt, Poland, Turkey, Hungary and others.
GOAL 3
An International Society

Post to the AVS website an updated list of international affiliate societies, along with contact information for affiliate leaders. AVS members can then more easily learn about international activities.
AVS sponsored visitors to International Society meetings provide brief reports on their visits to the International Interactions Chair and Board of Directors.
Participate in IUVSTA conferences and ISO TC 201.
Nominate an international member for election to AVS leadership positions.
Start an international AVS Chapter or International Affiliate.
Volunteer in AVS: www.avs.org/Form/Volunteer
GOAL 4
Support Industry, Innovation, and Competitiveness

Engage industry with national lab and academic researchers to ensure the topics offered at the symposium are of industrial relevance and stimulate innovation and competitiveness.

Goal 4 Achievements:

• Industrial Advisory Board (2014)
• Technical Specialist membership category (2013)
• Ambassador Program (AVS 61)

Challenge of decreased travel funding for industrial researchers
Overcoming the perceived minimal benefit for industrial researchers to participate in/attend meetings, or be a member of a professional society
Opportunity to add more Industrial Focus Topics, stagger the days they are offered, and implement an "Industrial Sessions at a Glance" page on-line and in the technical program.
"Spread the word" about AVS - educate others. Reach out and communicate to trade-specific communities about AVS.
GOAL 4
Support Industry, Innovation, and Competitiveness

Increase industrial participation at Annual International by 30 %.
Increase number of industrial AVS members
Increase awareness of the AVS technical library to industrial researchers.
GOAL 4
Support Industry, Innovation, and Competitiveness

Contact or become a member of the Industrial Advisory Board: IAB@avs.org
Increase industrial participation at annual International Symposium and Exhibition by 30 %.
Advertise the annual symposium and AVS membership benefits to your colleagues
Ask your industrial colleagues what can AVS do to help them grow professionally
Volunteer in AVS: www.avs.org/Form/Volunteer.